Our Team
Our unusual name, Camboro, is the result of the hospital's original location between Cambridge Springs and Edinboro. Since its founding in 1952 by Dr. & Mrs. Ray Birchard our practice has provided top quality, state-of-the-art care to both small and large animals of North Western PA. Camboro became an exclusive small animal facility in October 2001.
Just like you, our pets are family too. Therefore, your trust in us is a responsibility that we appreciate and one that we will continue to enhance through further medical, technological, and personal care. We divide our family into three catagories: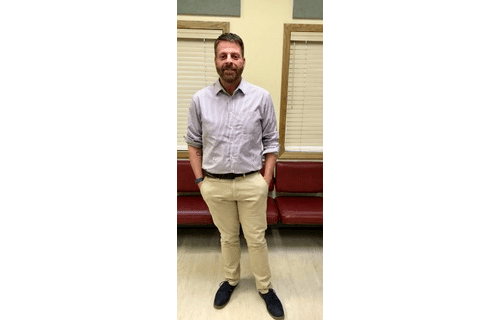 Mike McGuire
Hospital Administrator
A 1999 graduate of Edinboro University.
Grew up in Union City, PA.
Sixteen years of management and leadership experience.
Joined the Camboro team in January of 2015.
Has four fur babies including two cats named Bailey and Stella and two miniature dachshunds named Lilly and Leonard.
Client Relations Specialist Team
Handles the scheduling of appointments, maintaining patient records, admissions, and discharge of our patients.


Veterinary Technician Team
Medically trained individuals who handle a multitude of tasks at the hospital. These include: the supervision of surgical recoveries and the Intensive Care Unit, assisting the doctors with fiberoptic, laser, orthopedic, and surgical procedures, monitoring anesthesia, performing laboratory testing, and the maintenance of our in-patient housing.
Veterinary Assistant Team
Our OPVNs (out-patient veterinary nurses) are made up of trained veterinary assistants. The out-patient veterinary nurse is primarily responsible for admitting patients into exam rooms for their veterinary exams. This includes getting weights, temperatures and collecting important background information and vitals, so the veterinarian is fully prepared when he or she begins the exam. The OPVNs also make up the majority of prescriptions. Our dedicated OPVNs are always available to help with pet questions regarding the medications dispensed to treat your pet, bereavement counseling, etc.).